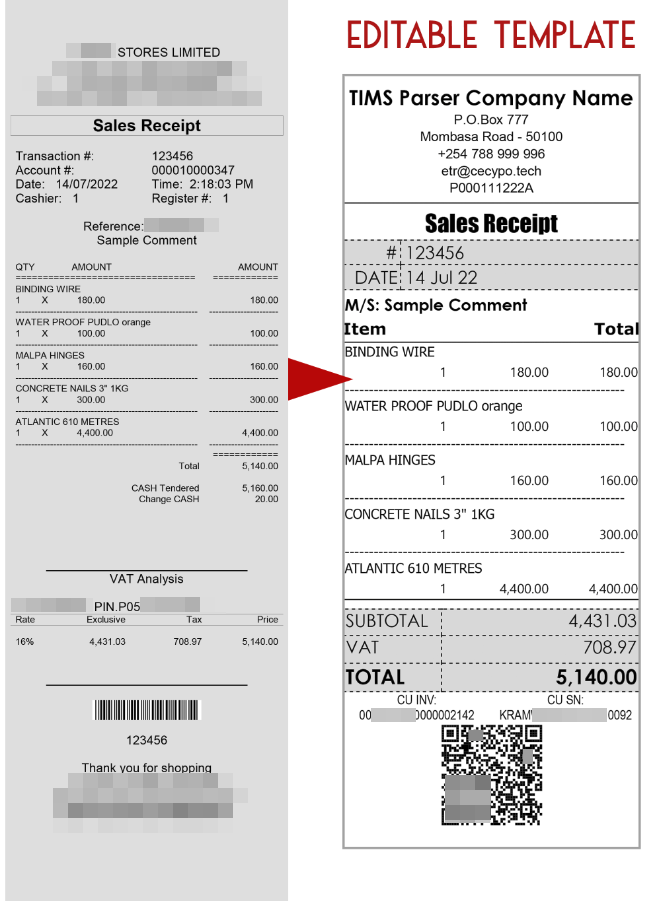 We have a unique solution for thermal receipts, since data capture is done from PDF's, which are troublesome for paper size and thermal printers, we take the captured data and present it in a thermal printer friendly template.
Note that not all fields from the original sale can be repeated on the new template and that the same rules apply as with larger templates, where the columns must be static so columns such as Name, Qty, Totals can be captured.
Inbuilt Report Designer can be used to modify any part of the template.
Important sections of the document from the above sample, required for integration, are;
Document Type – Defines if it's a sale or credit, and which printer should be used (as well as other rules)
Document Number / Receipt Number
Date of document
Reference is optional. Can be used to automate Credit Notes, which require a reference to the original sale
Company Name. Optional if not selling to someone with a PIN number
PIN Number, required if buyer will claim vat. Usually required when selling to a company
Product description. Optionally, add an HSCode anywhere in this line for sales with items which are NON-16% VAT.
Quantity being sold or returned
Total for the line item. Can be inclusive or exclusive of VAT
Discounts / Extra charges (such as transport, rounding, etc) can be included so the VAT/GROSS values match.
VAT and GROSS TOTAL values are used for rechecking the line items, ensuring that no wrong data is passed to the TIMS device.