A big reason why people use Raminian is for it's insights into products.
Learn about your products
performance
stock
cost and selling history
Make informed decisions in your business to beat your competitors!
From Reports > Reports > Cost Price Change History
Below you can see a trailing history for a product called GI ELBOW 1/2″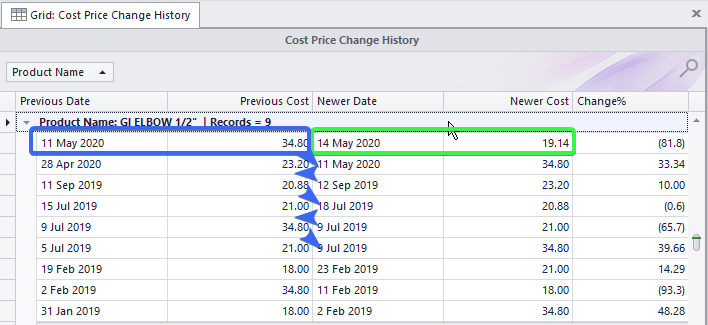 Explanation:
Report is shown in a ZIZ-ZAG pattern indicated by the arrows
(Green Box) is the NEWEST date & cost at 19.14

(Blue Box) On 11/May it was 38.80 (therefore a drop of 81%)

The first arrow goes to the same date; 11/May, where the price is still 34.80 and prior to that, the price is 23.20 on 28/Apr
Note that the 3rd row's "Newer Date" now changes to 12/Sep/19, which means that there was no change in the products cost between 12/Sep/2019 and 28/Apr/2020
Stock Card or Product History #
From Reports > Transction History > Select the Products tab
Product Performance #
(From Reports > Transction History > Select the Products tab > Search for a product > Click the lightning icon)
Use Product Performance gives you the distribution percentage between your customers, here you can see that 50% of an item is only bought by a single customer, and 92% of this product is bought by the first two customers.

ACTION POINT: Advertise this product to more customers
Calculation of Profit / Margin / Markup #
Selling Price
Cost Price
Gross Profit
Markup % = (Gross Profit / Cost Price) * 100
Margin % = (Gross Profit / Selling Price) * 100

Example: Product with a cost of 1,500/-
Add MARKUP of 33.33% will result in a profit of 500/-, resulting in a selling price of 2,000/-
Add a MARGIN of 25%, will give you the same profit of 500/-, and a sell price of 2,000/-