Use an Mpesa payment on a sale:
#
Select MPESA and click on the (+) button to the right.
Simply enter the PHONE NUMBER or TRANSACTION ID for the payment
Click on the Search button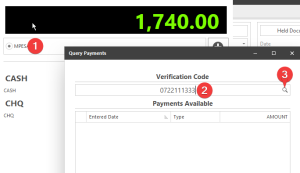 How to search & use a specific payment: #
You can use the Transaction ID (TXNID from your SMS payment notification), or the full phone number (with or without country code) OR just the last 3 digits of a phone number.
Click ENTER to auto-select the oldest open payment, or double-click a row to use that specific payment.
Can't find a payment? Let's check online & with Safaricom:
#
Clicking on the search icon, THREE TIMES, will take a few seconds, as it checked online (on mpesamanager.cecypo.com)
Clicking it FOUR TIMES, will show a new "Transaction Query" box which needs ONLY the Transaction ID (which only shows on the mpesa portal or customer's sms).
This will push a command to Mpesa asking Mpesa to push the payment, if it exists, to mpesamanager.cecypo.com. Which provides Raminian with mpesa data.
Click on the search button a final time to see if any new payments have been received. Remember, the third click will download any new payments received.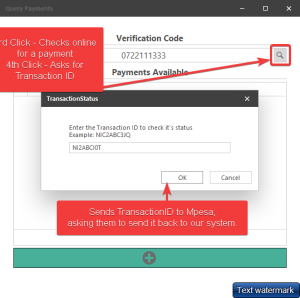 Transaction Query / Transaction Status
#
This function is the same as MpesaManager's Transaction Query window.
The below image shows how you would use the website to check for a payment which hasn't been received yet.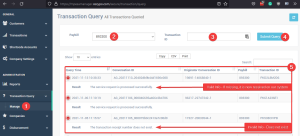 Copy & Paste data from Mpesa's Portal into Raminian
#
From Mpesa's Portal (https://org.ke.m-pesa.com), find the missing payments.
Copy the full row from the mpesa portal

You can also select all visible ones, as Raminian is clever enough not to duplicate them!
With or without header works too!

Open the menu Banking > Import Payments, and paste as shown below
*Mpesa payments will NOT duplicate by using this function!